It is a great honor for me to have been appointed the fifth president of the Japan Society for Endoscopic Surgery (JSES), and I am prepared to take on great responsibilities that come with this new role. The foundation of the JSES was firmly established by Dr. Yasuo Idezuki and Dr. Masaki Kitajima, both former presidents of the JSES, and the Society's growth has been achieved by succeeding presidents Dr. Seigo Kitano and Dr. Masahiko Watanabe, thanks to their far-sightedness and initiative. Due to the spread of COVID-19 worldwide since the beginning of 2020, our original plan to hold a joint meeting in September this year—WCES2020, ELSA2020, and the 33rd Annual Meeting of the JSES—had to be changed with great regret: WCES2020 will be re-scheduled after the year of 2024 , ELSA2020 was held as a virtual online meeting in September 2020, and the 33rd Annual Meeting of the JSES has been postponed to March 2021. As various academic meetings are now being held online, their advantages and disadvantages are gradually becoming more and more unambiguous. I think that the COVID-19 pandemic has created an opportunity for us to reconsider the whole concept of 'meetings,' including not only academic society meetings but also educational seminars and training courses. We are confident that the WEBINAR which has already been started with the cooperation of various companies, as well as the e-learning site of our society launched in July, will open new frontiers in educational tools.
JSES has three characteristics: 1) it is cross-disciplinary, 2) it has established a technical evaluation system (ESSQS: Endoscopic Surgical Skill Qualification System) ahead of other surgical societies, and 3) it is focused on the promotion of medical-engineering collaboration. I would like to exploit these characteristics and continue the policies set forth by Former President Masahiko Watanabe. The policies include: 1) internationalization: Early acquisition of Journal Impact Factor and increased recognition of our Official Journal of JSES, ELSA, and AETF "Asian Journal of Endoscopic Surgery" ; introduction of an English HP; encouraging abstract submission from overseas for presentations at the annual meeting; strengthening the relationship with ELSA and outreach programs; and supporting the launch of overseas technical certification systems; 2) cross-disciplinary information sharing: unification of terminology and standardization of surgical techniques in an common area (e.g. the pelvic surgery, thoracic surgery) ; and cooperation for training of clinical engineers and nurses for task shifting; and 3) medical-engineering collaboration: a novel structure that enables collaboration in the early stages in order to accelerate the seed-to-product process; and establishment of "surgical data science" (quoted from Dr. Makoto Hashizume's lecture) using a wealth of ESSQS videos.
In order to implement these policies and serve as a driving force for the development of medical care not only in Japan but also around the world, further cooperation and recommendations from JSES members are indispensable. To this end, I hope we will strive together to achieve our goals.
December 2020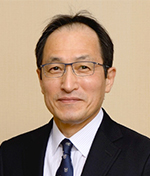 Yoshiharu Sakai, M.D., Ph.D
President of the Japan Society for Endoscopic Surgery